I Can't Code, But Have a Great App Idea. What Should I Do?
Product
You just stepped out of an exhilarating, inspiring planning meeting. The answer to your challenge is brilliant: an app. The concern? Nobody on your team is a software developer or coding wizard -- and you really aren't sure where to start when it comes to creating an app for your business. You're not exactly in the tech industry. No worries. We got you.
If you don't have experience with developing software, you really only have one option. You need to find a partner to build the app. There is no other way around it. There is no low-code option. There is no "app builder." There is no DIY for non-coders, unfortunately.
Therefore, you have two options:
Find a technical co-founder who can help you take on this project
Build a clickable app prototype to showcase to investors–so you can get funding for a technical co-founder or software development agency
5 Things You Need to Start a Technical Company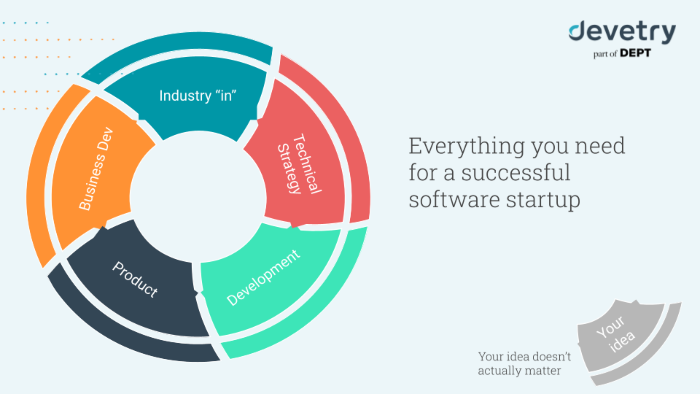 Once you decide to go all-in on your great app idea, you'll need the following five parameters in place to be successful. As the "idea-person," you probably already have two or three of the business-focused pieces, and just need to hire out for the technical assistance.
Business development expertise: Who will grow and develop your business?
Industry "in": You might be the best salesperson in the state, but you'll need an "in" to a customer right away.
Development expertise: Who will design and build the custom software needed to fuel your app?
Product expertise: Does the app align with current products? Who will be in charge of iterating as you collect feedback?
Technical strategy: How will this app ebb and flow with your current technology, and how does it scale?
The truth is that no single person has all of these skills. Realistically, you might have two or three, so you need to find someone with complementary skills.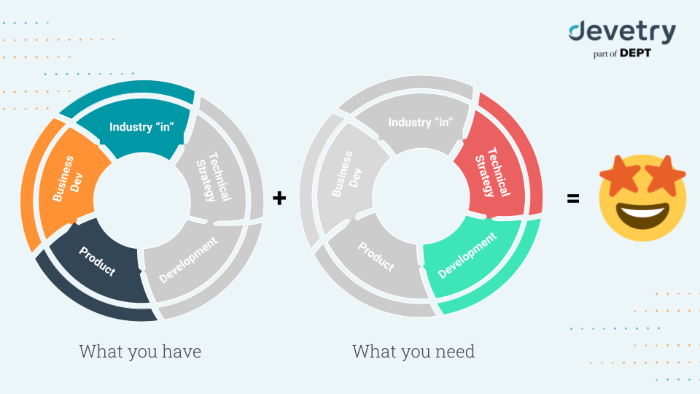 Identify which of these must-dos can be successfully accomplished by your team and which ones need to be outsourced to bring your app idea to life.
When shopping for a software development agency, keep these ideas in mind:
You need someone to execute your idea
You need someone with opposite (complementary) skills
You need technical validation
You need technical oversight of your platform
Tips for Finding a Technical Co-founder
If you go with the first option, be ready to share a percentage of equity in your business. This will serve as their compensation for their hard work since you're not yet in the black.
Next, be ready to pitch your business and why it should matter to the potential co-founder.
What will they gain out of the partnership? Are there stepping stone networking opportunities that help them materialize their business plans? Or, are the financial projections so good the number will speak for themselves? Remember: Talented software developers can make money anywhere with their in-demand skills. Why should they sign a contract with you specifically?
Let the potential technical co-founder know that if things move in the anticipated direction that they may become the company CTO and should be proficient in not only software development but also tech strategy and people management.
Tips for Creating an App Prototype
Planning to go the funding route? To land those dollars you'll need an app prototype to show investors. After all, ideas don't get funded; products and services do. You need something to show potential investors.
Invest start-up funds in a design sprint to work up a documented app strategy, design, test, and iterate. Within this process, you'll iron out all the details that investors will question you about including basic UI elements, what three to six of the app pages/screens will look like and what features the app offers. You'll end up with a mockup that's been tested and evaluated with a few rounds of feedback.
Next up is an architecture sprint that will outline how the app will actually be built. What coding languages will be used? What integrations are necessary? What frameworks and databases are needed? Once all of these considerations are discussed, you can get the estimated cost for building the full-functioning app.
If you've decided to partner with a software development agency to get the ball rolling, reach out to the team at Devetry to learn how we can help. Each day we collaborate with businesses to design and build custom software and would love to learn about your app idea.
If you liked that, try these!